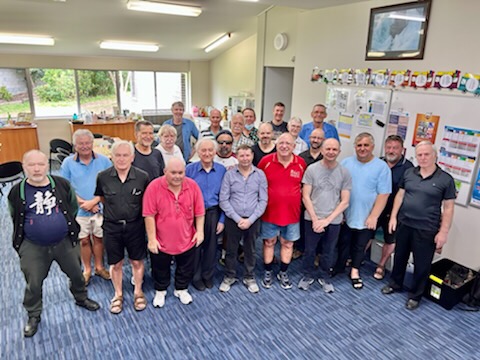 2021 QLD SENIORS CHESS CHAMPIONSHIP  By Mark C Stokes
On Saturday October 23 and Sunday October 24 twenty-three keen chess players fifty years of age and older contested the 2021 Queensland Seniors Chess Championship at Saint Josephs' Primary School in Bracken Ridge. Three games were played on each day at 60 minutes each plus 10 seconds a move. In each of the six rounds a number of games lasted more than two and half hours and many games went right down to the wire. There was no place for the faint-hearted in this Seniors Championship!
The upsets started in round 1 when George Warta, rated 1380, defeated former Queensland Chess Champion Bruce Holliday, rated 1760, on time – George, seconds earlier, had almost lost on time himself! The other top seeds, George Lester (1888), Tony Dowden (1831) and another former Queensland Chess Champion, John Myers (1753) all recorded hard fought victories. Tony Dowden complimented his opponent Jim Ritchie on his very good play, Jim only going astray late in the game in time trouble.
In round 2 Oleg Korenevski (1551) staged an incredible fightback to snatch a draw from the jaws of defeat against the top seed George Lester, with his three or four kingside pawns boldly marching up the board, even though he was a couple of pieces down. It was the game of the round!
With George Lester taking a half point bye in round 3, and Allan Fossey (1624) holding John Myers to a draw, it was just multiple Queensland Senior Champion Tony Dowden on a perfect 3/3 at the end of the first day's play, after Tony tamed Bruce Littleboys' (1653) eccentric but tricky opening play. With Myers, Fossey and Korenevski on 2.5/3 and five other contenders on 2, the Title race was still tense as round 4 began on Sunday morning with 20 of the 23 players – John Myers, George Warta and Donny Hamilton had all requested half point byes for the 9:30am Sunday morning game.
The highlight of round 4 was no doubt the top board clash between Allan Fossey on 2.5 and Tony Dowden on 3. In a memorable encounter, this time Allan emerged victorious and with Oleg Korenevski winning on board two over Bruce Littleboy, we had two new leaders at the end of R4, Allan and Oleg. Tony Dowden would now be forced to work very hard in round 5 to remain in contention, and some well rested players were about to join the party too. Tony Weller's (1450) upset win over Bruce Holliday should not go unmentioned either. It was also rumoured by many in the playing hall that one Mark C Stokes missed a checkmate in one or two against Gympie's unrated David Haylett and David went on to win in fine style!
In the key round 5 match ups, Oleg and Allan drew on board 1, Tony Dowden came back from a very shaky position to defeat a rather unlucky George Lester, and long time friends Tony Weller and John Myers split the point on board 3 in a well contested game. It was going to come down to final round to determine the 2021 Queensland Seniors Chess Champion.
At the beginning of round 6, there were three equal leaders, Allan , Tony and Oleg,  all on 4 out of 5, with two more players, John and Peter Cronin (1550) on 3.5, still hoping the other results might go their way.
The top board encounter between Oleg and Tony was tense but even throughout, but the other co-leader Allan Fossey was soon in trouble after making an opening error in one of his favourite systems against Tony Weller's Sicilian. But Allan kept fighting and managed to save what turned out to be crucial half point. With John Myers hopes of all the other results going his way if he won coming true, we finished the tournament with not one, but four Queensland Seniors Chess Champions!
A hearty congratulations to Allan Fossey, John Myers, Tony Dowden and Oleg Korenevski for all finishing equal first on 4.5/6. They will share the first, second and third prize between themselves equally. The best score by players 65 years of age and older, (who had not already won a major prize),  was shared by Bruce Holliday and Tony Weller, both on 4/5. Tony Dowden sponsored this prize once again and he will do so until he reaches that age. Thank you very much Tony!
The 2021 Queensland Seniors Chess Championship was a fun event to be part of  and we hope to make the 2022 Seniors in October next year even bigger and better, as a great warm up the huge Oceania Seniors at Noosa in November. Peter Cronin kindly took some action shots of the players too – thanks very much Peter. Finally, a big thank you to Gail Young from the Queensland Womens Chess League for organizing this event for so many of us to enjoy so much, win, lose or draw.
Final-standings